Audrey Wollbrett's story began the day she learned to hold a pencil. Her taste for drawing lead her to study graphic arts; later, her love of beauty directed her to flowers and plants as she became a florist. She created enchanting arrangements with new materials and exercised her trade in Paris, France and Vancouver, Canada.
Her love of color did not wane and Audrey went on exploring new materials to use. She delved into varied needlework, as knitting and crochet, and in 2020 she tackled embroidery, skilling up by herself. She liked it so much she took crash courses in Haute Couture embroidery, and passed her exam with flying colors, thence deciding to make embroidery her full-time occupation.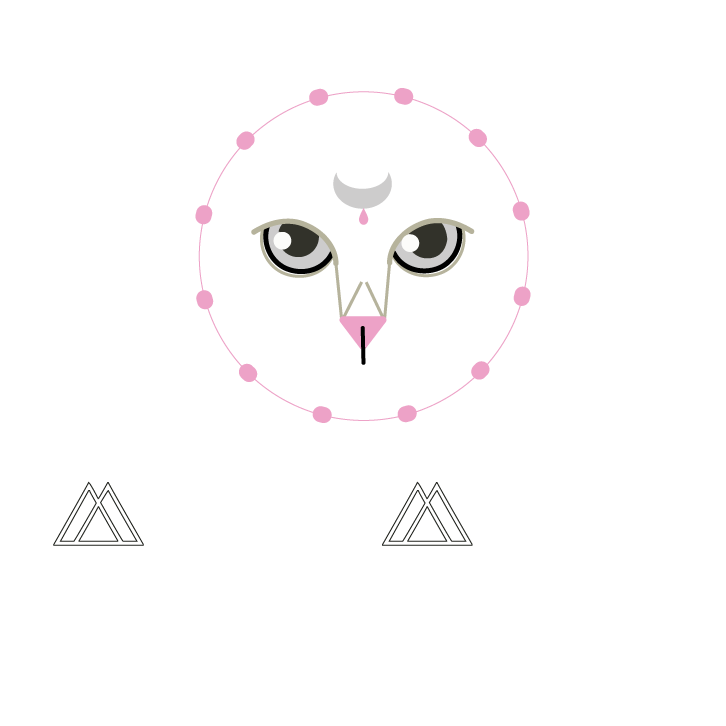 The brand's values
Audrey founded Mythik Mystik in 2021. As an artist and craftsperson, she discovered this passion-trade was meant for her. This activity allows her to showcase her best qualities: creativity, patience, ingenuity and cheerfulness.
She creates continuously, but one absolute rule applies: never embroider the same thing twice; Audrey produces only unique pieces!
At every step of the process, from the design, the choice of colors, beads and threads to the embroidery itself, everything is hand-made in Paris, France. Promoting the French savoir-faire is indeed essential to Audrey.
The materials used at Mythik Mystik are high-end products, guaranteeing durability. Audrey uses Japanese glass beads and Bohemia crystal beads or cabochons. Chains are made of silver or are gold-filled or gold-plated. Everything is chosen with great care. Environmental responsibility is a major topic to Audrey, so she shuns plastic as much as is possible when designing her jewels, apart from some scarce sequins (Italian and French). Moreover, Audrey stores most of her beads in old glass jars like a magician would keep her potions and precious ingredients… which they are to her! She also keeps animal-based products at bay, such as silk, wool, leather, or coral.
Inspirations
Art is a cornerstone in the universe of Mythik Mystik; Audrey's first love for graphic arts makes up a prominent facet of her work, and nature is a major influence as well.
But Audrey's main inspiration sources comes from her childhood, from the time she used to spend hours at the library, devouring fairy tales and myth books from around the world. There lies the origin of the brand's name: from folklore, mysterious characters and mythology. Mythik Mystik tells a story, either obvious or more subtle, through each piece of work.
Embroidery
For Audrey, creation is handicraft; no digital work or computers involved. She loves the smell of paper and the sound of pencils gliding on it as she draws. When she embroiders, she uses a crochet or a needle that pricks her fingers, much like Sleeping Beauty's spindle.
Passionate about this art which offers an infinite variety of material assemblages, Audrey finds herself in a fairy tale world again as she embroiders haute couture accessories. It takes nothing less than crafting high-quality, precision-made delicate and unique pieces to quench her creative thirst.
Today, with a view to develop her business as well as her craftsmanship, Audrey is learning sewing and looking to offer unique articles to wear. Always up to new challenges and new projects, how far will she will go along this new path? There's no telling…